Los Angeles, CA


Starting as a pro-bono collaboration with the Los Angeles Food Policy council in the mayor's office, Alba Snacks and Services is the culmination of a year long process to create a hyper-low cost conversion prototype of a corner store into a healthy food retail and community service outlet. The market makeover project involved store renovations, creating a new name and brand for the store, as well as introducing new healthy food products. Formerly called $1 Warehouse, the store is now called "Alba Snacks and Services" as a reflection of the local owner's family and the nature of the offering provided at the store. Along with carrying fresh fruits and vegetables plus other healthy snacks like trail mix, yogurt, and nut bars; the store also provides services such as high speed internet connected computers and low cost remittances for money transfers to relatives abroad.


SML partner Bryan Libit worked with the team from LAFPC, the store owner Nelson Garcia and various other community groups and neighbors in creating a replicable project framework with the goal of expanding healthy food access in South Los Angeles and addressing the growing "food desert" issue in parts of our city. The design we created is assembled with very low cost components available from local hardware stores and retailers like IKEA. We also worked with local sign makers and contractors for a 1,500 sf makeover that cost about $1/sf. Furthermore we developed a merchandising toolkit in collaboration with students at the adjacent high school that helps store owners procure and display healthier products that neighborhood residents are looking to purchase.
The LA Food Policy Council expanded this makeover concept to other neighborhood businesses through the development of a resource network and leadership training series for small stores in food desert communities throughout Los Angeles in order to help them grow as healthy food retailers. Over the past two years, the LAFPC has trained over 200 corner market store-owners and other food entrepreneurs on how to sell healthier foods based on the Alba Snacks & Services prototype.
Media Coverage:
La Opinión

KCET
Streetsblog LA
Curbed Los Angeles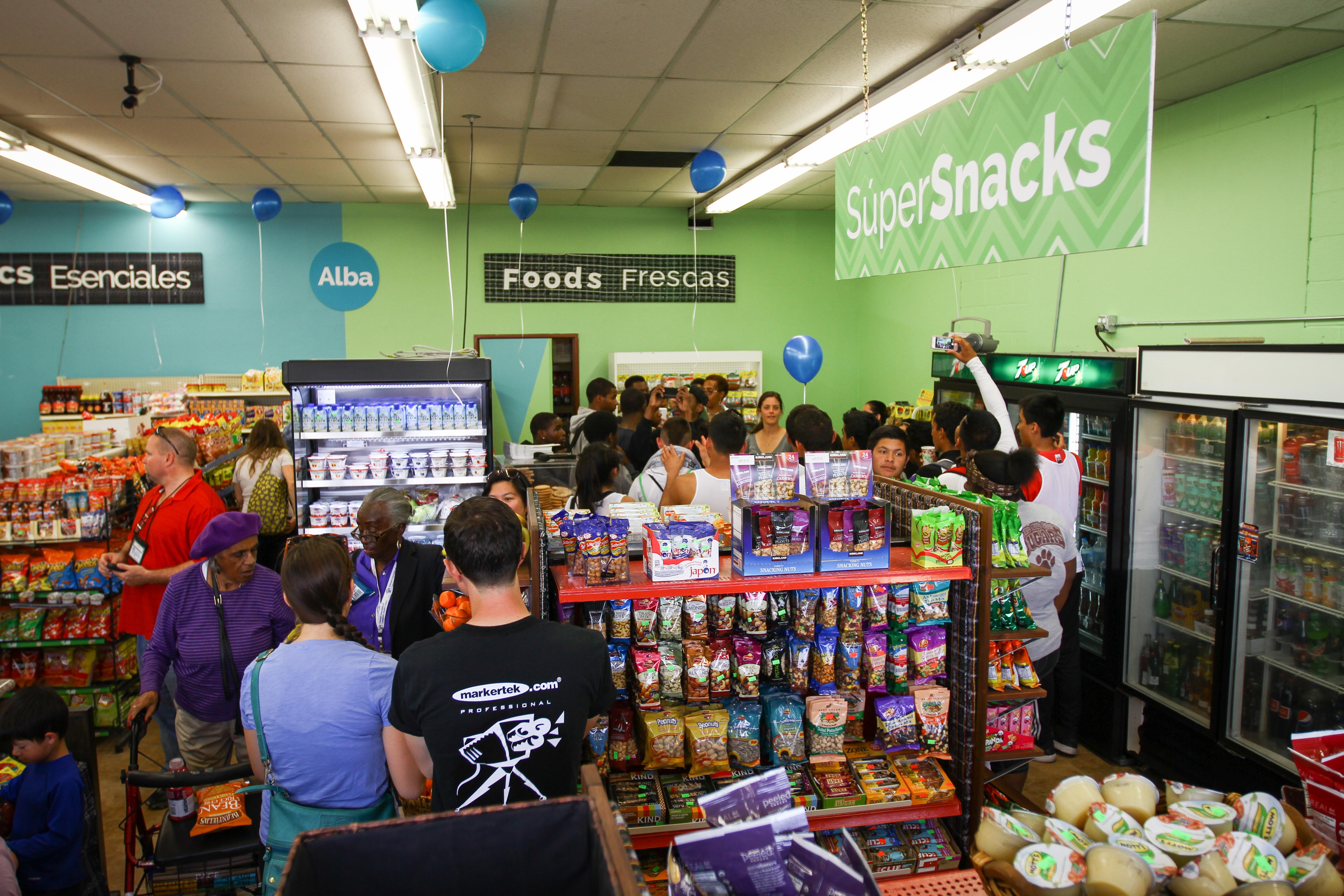 Alba Project Team:
Architecture: Bryan Libit/Studio MacDonald Libit
Branding & Merchandising: Michael Powell
Project Management: Clair Fox/LA Food Policy Council
Community Relations: Rudy Espinoza/Inclusive Action for the City
Graphic Design: Adam Johnston
© Studio MacDonald Libit | Photography by Rudy Espinoza